Behind the Scenes Look at "Family Feud"
I live close to New York City, so the only shows I can do any on-set coverage for are Who Wants to be a Millionaire? or any show Michael Davies, my east coast game show savior, does.  Which is why we'll be behind the scenes of The Newlywed Game in February.  When I went to Los Angeles around two weeks ago, I wanted to try to go behind the scenes of a show I normally couldn't.  Luckily I got a chance to see one of my favorite game shows still around, Family Feud.  These were the last episodes of the season I got to see, so it was pretty exciting on set.  Everyone seemed to really put everything they could in for the final episodes airing in May.  Below the break is how the experience of seeing Family Feud live is as well as some pictures taken from the set.  Shockingly my cell phone takes really good pictures.
Family Feud was by far the smoothest set experience I've ever had.  I remember when I went to see Chain Reaction, which was an agonizing three hours to tape one 21 minute episode.  Feud taped six episodes in the course of around six or seven hours, including the breaks and lunch break.  It's live to tape, so everything you see on camera happens on set, and it's really a testament to how incredible the staff is.  Everyone is on the ball and doesn't waste time.
Many of you may already know, but sets are a lot smaller in person than they are on television.  The same goes for Family Feud, but it's incredibly impressive seeing it all first person; especially the big board.  I'm pretty tall (6'3") and the board stood pretty well above my head.  That entire area was impressive.  It was just so refreshing and nice to see a set that's brightly lit and happy.  Basically no moody darkness and blue anywhere, and that atmosphere carried to the audience who gets really involved.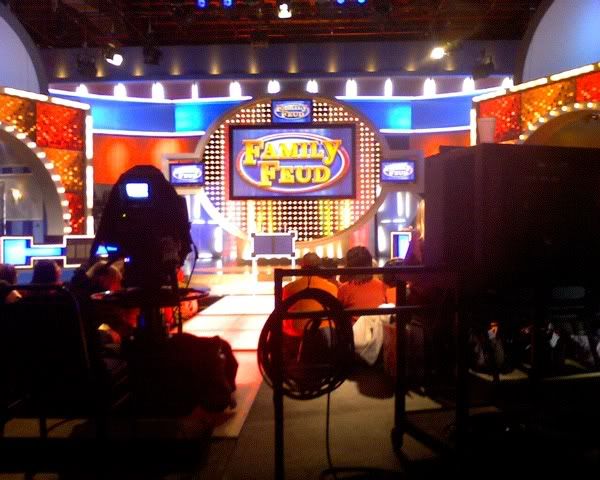 The host, John O'Hurley, and announcer, Burton Richardson, are fantastic in person as well.  Burton does the warm-up and coaches the audience through the ways the show goes and how important the audience is.  The most amusing part is when I went to talk to him for a bit.  I told him I know him from a few shows, he asked which ones, and I said mainly from Russian Roulette.  Out of no where he broke into his creepy unbelievably deep voice and started talking; very entertaining.
I was most excited to meet John O'Hurley, though.  I'm a gigantic Seinfeld nerd, so knowing I was getting the chance to meet J. Peterman was the most thrilling thing this site has allowed me to do.  And John is seriously the nicest host I've ever talked to.  I know he was probably coached about who I am, but he was still incredibly warm and inviting.  He's even funnier in person than on camera.  During breaks he takes questions from and talks to the audience, so that was neat.  I would have figured by now he'd be sick of people bringing up Seinfeld to him (I resisted somehow), but he talked about it enthusiastically.  I know I've said it before but meeting him in person and seeing how skilled he is on set cemented it for me: he's easily the best Feud host of this current edition and, at least to me, since Richard Dawson.
Production wise, it runs as smoothly as any live to tape show does.  The only major stopdown came when contestants were singing answers to a question.  People weren't sure if the songs were in the public domain so they rerecorded the answers with the contestant just saying the answers.  All the questions for each game are typed up and printed, with every single answer listed, whether it makes it on the board or not.  People are cautious about trusting things on television, but this was completely legit.  All the music is pumped onto the set too.  I've really started to embrace the classic theme played on the current set a lot more because of this experience.  I was iffy about it was first, but as the audience was walking onto the set they were singing and clapping along to the theme even before it started.  So I officially give in to that complaint that I originally had.  You all win, I like the classic theme on the current set.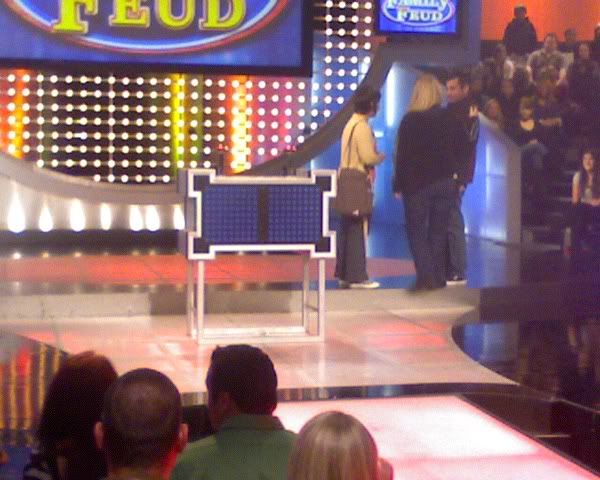 Family Feud was easily the best set experience I've been through.  It was entertaining and exciting, the entire staff is unbelievably nice, production of the show is speedy and flawless, all of the on-air talent is top notch.  It really shows in the final product.  I've been a major fan of the current edition since John O'Hurley first joined three years ago, and it's only gotten better each year.  The best news is that I've been told by several high-up staff members that the show will be coming back for an amazing 11th season in the Fall (obviously barring and major catastrophic event which will be remembered for ages), so I can't wait to see what they have in store next year.